Why not come to this pension in nature
with clean air, woods, and beautiful stars!
Come to pension "ARINOTOU" - located in the forest 4 km away from the world heritage Nikko Tosho-gu famous for two shrines and a temple. You can relax and have a good time with animals here. You'll have a chance to see wild deer, monkeys and pheasants. In addition to our staff member, some dogs including a golden retriever are waiting for you. When you play badminton, basketball or baseball in the large golden which is partly used as parking lots, these dogs want to join you in the game or beg to take for a walk.
"ARINOTOU" is a hotel type pension with high consideration of privacy. It is built on 2,300 square meter land surrounded by woods. There are only copse and some villas 1km around it. Three lodges painted by different colors were imported from Canada and assembled by a Canadian carpenter. Sometimes, guests give us compliments on our rooms by saying "Woo. It's cool!".
Three kinds of open-air baths are available, which we boast of much. There, you can enjoy beating-bath (hot water falling onto your body comfortably), sleeping-bath (resting your head on the edge of bathtub) and drinking-bath (you can enjoy Japanese sake while taking a bath). You'll feel as if you were in the traditional inn (Japanese hotel), enjoying forest view, constant chirping of birds, perfect stars at night.You can refresh your body with a Japanese style out-door bath after enjoying many wonderful views of our sightseeing spots such as the world cultural heritage temples and shrines.
Out-door bathes can be exclusively used by guests sharing room.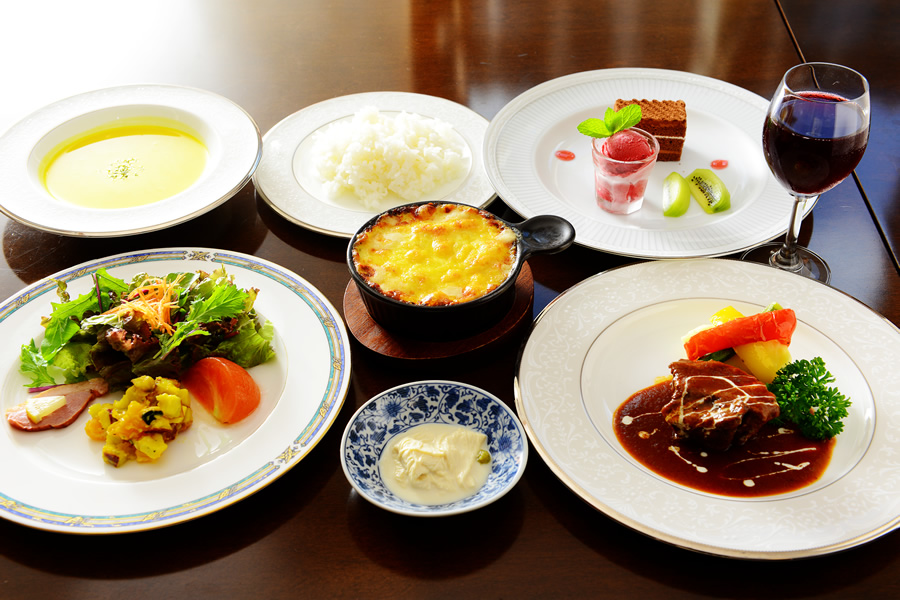 Meals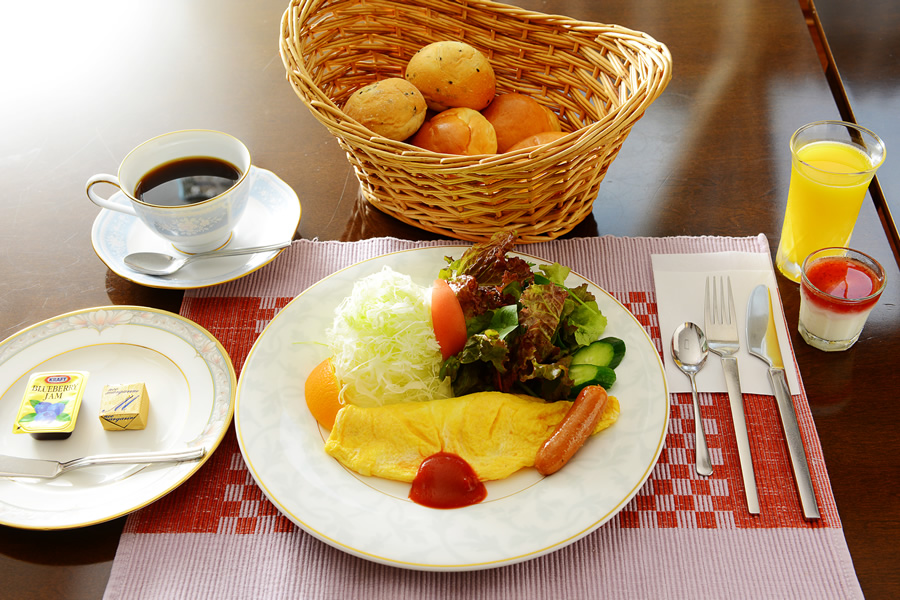 Enjoy our homemade European food to your heart's content!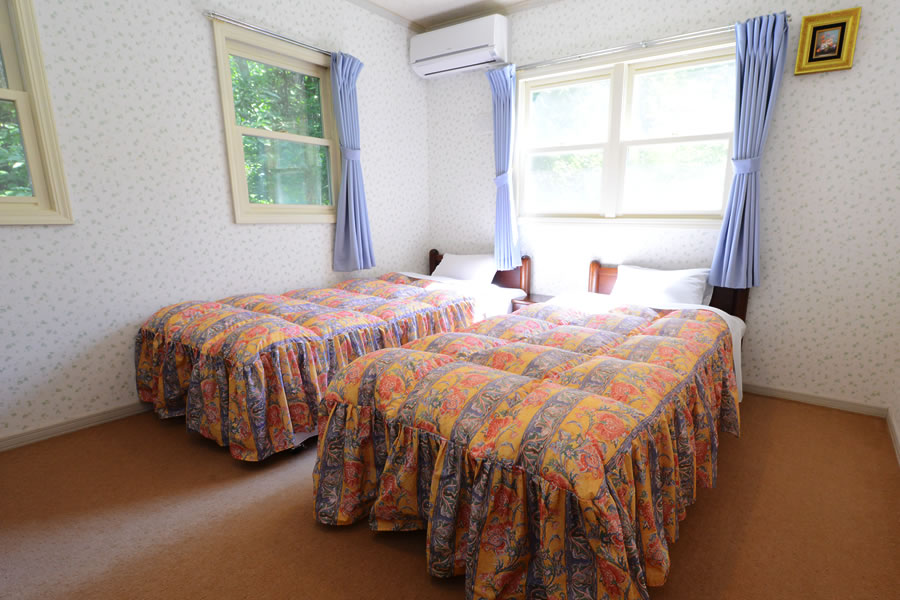 Rooms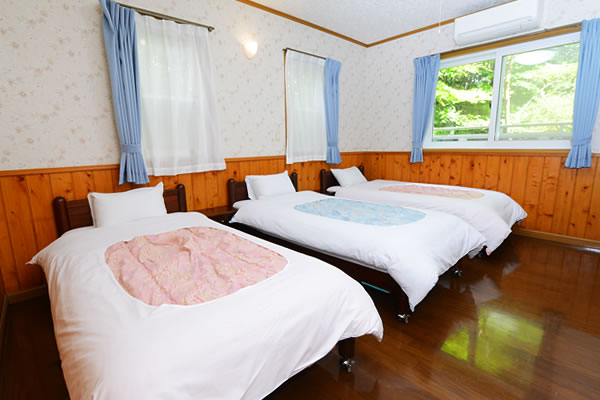 Sunny rooms with woody touch.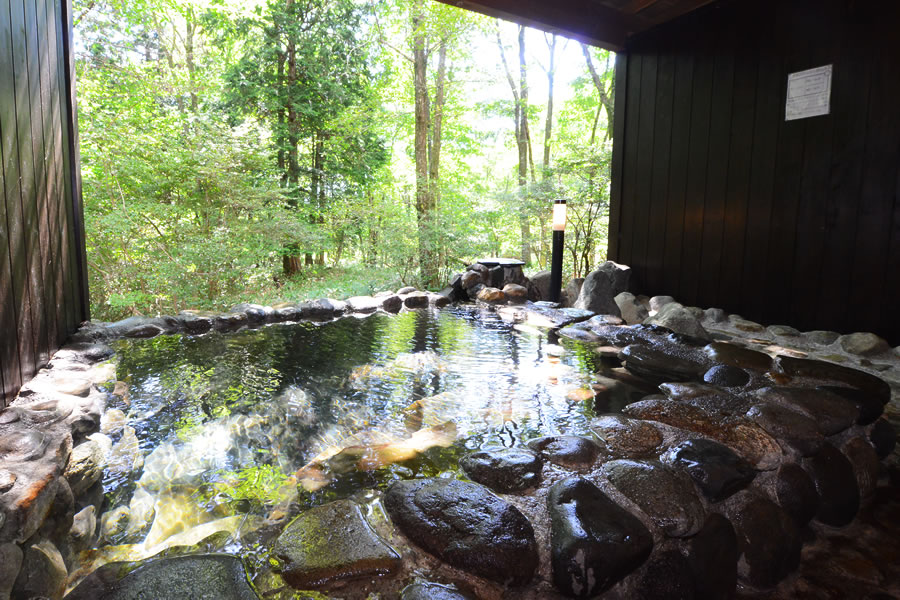 Baths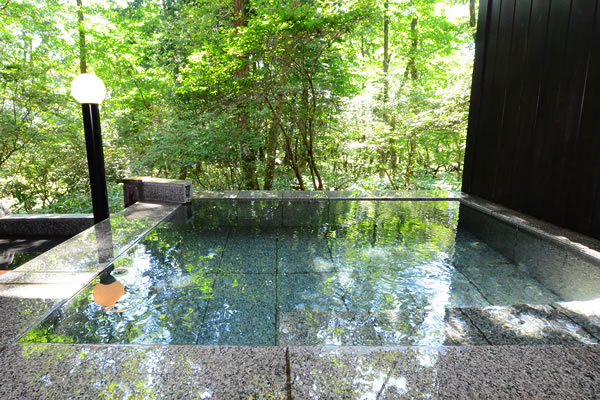 Heavenly peace in a outdoor bath.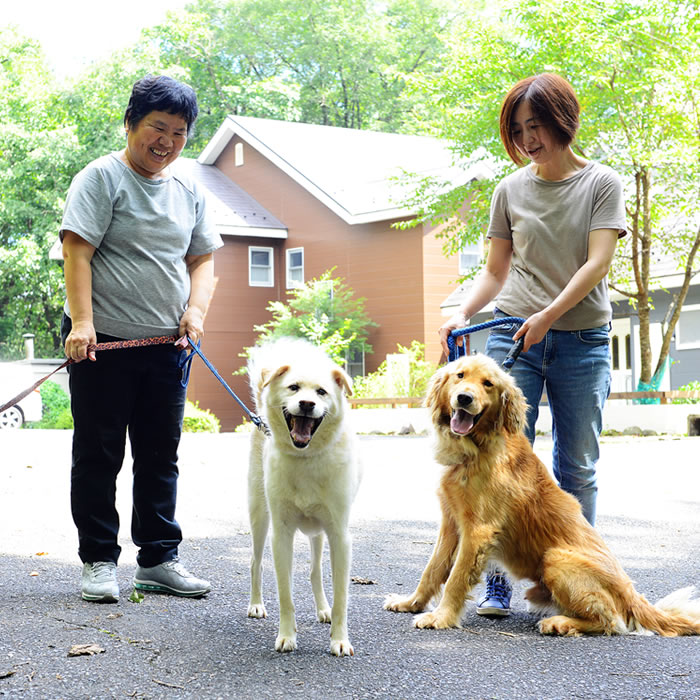 With family
and friends!
ARINOTOU, a hotel-type room, is a pension where you can stay with your pet.
It is also popular as a private pension for companies, seminars, and circles as a branch for training camps and school excursions.
Room Charge
With tow meals
Weekday
From ¥9,350
Consumption tax. is included in
every charge.

If you bring a dog, the price will
change. Please contact us for
details.
Fridays and weekends
From ¥10,450
Special season
During Christmas & New Year, golden week in May, summer vacation and
other consecutive holidays, special season charges are adapted.
Children
Charges for children are available. For further information,send a mail to us.
Cancellation Fees
In the event that you must cancel a
reservation the following fees
apply.

Same day : 100% per person
9 to 1 day(s) before : 5000 yen
per person
19 to 10 days before : 3000 yen
per person
Room Specs
Main lodge
Twin room
33m2(area occupied)
Each room has a unit bath and a closet.

Check-in 15:00
Dinner 18:00
Check-out 10:00


Each room has

air-conditioner
TV-set
washroom
hair dryer
Face towel
Tooth brush
Body soap
Rinse in shampoo

Double room
33m2(area occupied)
Dining room1
53m2(with a fireplace)
Dining room2
53m2
Annex lodge with BS TV available
Twin room
40m2(area occupied)
Double room
33m2(area occupied)
Western room
43m2(area occupied)
Japanese room
43m2with tatami mats(area occupied)
Fapanese and Western room
53m2with tatami mats(area occupied)
Play room
66m2(Piano, game and vending machine)
Open-air Baths
Rock open-air bath
Bubble bath and hot Japanese sake equipment
Open-air baths can be reserved at check-in
Granite open-air bath
Shower room and sleeping bath
Iron-stone open-air bath
Shower room and beating bath
Information
Sightseeing of "Nikko," the world cultural legacy, feeling the great nature -Attractive annex was opened in 1998 winter.Three different types of open-air baths like a Japanese traditional hotel can be reserved. -Free of charge !
Lake Chuzenji [30 minutes by car], Edo-village [20 minutes by car] and Tohshogu [6 minutes by car]
Accomodations for groups, circles and seminars are on consultaion.
ACCESS
by TRAIN

7 minutes from the Tobu-Nikko station or JR-Nikko station by car.
Shuttle service is available. Please contact us.

by CAR

9 minutes from highway Nikko I.C. by car.
1544-150, Tokorono, Nikko-shi, Tochigi-ken, JAPAN Zip code: 321-1421
tel : +81-288-53-4362 / fax : +81-288-53-4639

Weather information [Japanese] >
Yahoo! Weather [Nikko City]